Voices
Faculty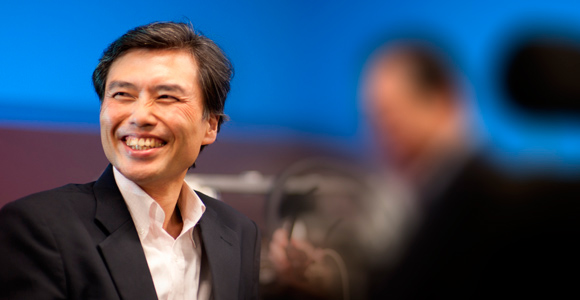 SDM is the place that expanding
 my thinking in the right direction.
Hidekazu NISHIMURA , Ph.D.
Professor, Graduate School of SDM, Keio University
Prof. Nishimura's area of research and education content at SDM
Prof. Nishimura specializes in control system design, especially control systems that secure safety, which is the most important system requirement. He designs control systems for mobility-related products such as automobile and consumer electronics products. Modeling is essential in system development, including control system development. The term "modeling" includes various kinds, such as concurrent design of architecture with a higher level of abstraction, simplified dynamical modeling for concept design, and detailed simulation modeling for detailed verification and validation. In embedded systems, SILS (Software In the Loop Simulation), HILS (Hardware In the Loop Simulation), and HuILS (Human In the Loop Simulation) require detailed simulation modeling as well as modeling with a higher level of abstraction in the first stage.
Joint research with Prof. Ogi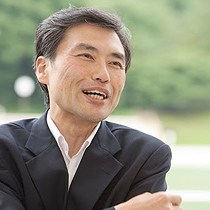 Prof. Nishimura never expected to conduct joint research with an insurance company. The project to keep the elderly driving safely through the use of a 3D immersive driving simulator started as a collaboration with Prof. Tetsuro Ogi. It is said that aging including decrement of one's ability to pay attention and one's dynamic vision starts to show in one's forties.
When Prof. Nishimura was a visiting professor to research at Virginia University, the late Prof. Pilkey offered to let him drive his car to save the considerable expense of renting one. Prof. Nishimura noticed that he was more cautious when driving Mr. Pilkey's car because it was a left-hand drive car with a manual transmission, with which he was unfamiliar. His way of driving was definitely unusual. He wondered what caused this difference. People tend to take more risks when security is maintained. This is a significant factor on considering safety control systems.
Prof. Nishimura and Prof. Ogi formed a joint research team beyond multidisciplinary fields with a doctoral student who was employed by the insurance company.
What brought Prof. Nishimura to SDM and his experience at SDM
After graduating from the Department of Mechanical Engineering, Faculty of Science and Technology, Keio University, Prof. Nishimura spent six years in Prof. Shimogo's and Prof. Yoshida's Lab where he earned his master's and, eventually, his doctorate degree. As an associate professor in Chiba University, he worked with various organizations on research, including seismic isolation control for building-like structures, steering assist control for motorcycles, motion control for four-wheel automobiles, and injury protection control of occupants. These control systems design needs consistent systems thinking and model-based approach to design systems, which are the root of systems engineering. He joined in SDM because it gave him a opportunity to conduct education and research on systems engineering. He feels that his research has expanded since he joined SDM. For example, in research on automobile safety control, there are many objects that require attention, including interdependency with other automobiles and vulnerable road users such as cyclists and pedestrians. He realizes the importance of designing systems that are aware of the external environment. This is the real joy of research.
Message and advice to SDM students and alumni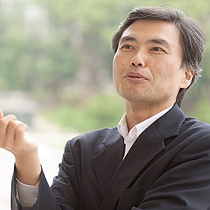 Prof. Nishimura believes modern Japanese are losing their sensitivity; how can one maintain a certain level of it? Is there a way for systems to demand people to do it? The days pass by in a safe city with a certain sense of calm, as if nothing is happening. Some people say you can fix things after you notice something is wrong, but by the time you realize there is something wrong, isn't it already too late? Prof. Nishimura wishes to stay hungry and stay foolish, on the advice of Steve Jobs. He knows that he cannot force other people to feel the same way, but he hopes SDM students and alumni carefully consider these issues.
What is SDM?
SDM is like smart grid; your ideas can realize their potential to expand and lead somewhere else. It's a place where, even though you don't have much power on your own, you can utilize the power of others to accomplish great things.