The Graduate School of System Design and Management of Keio University (Keio SDM) was established on April 1, 2008 to mark the 150th anniversary of the founding of Keio University.  The independent graduate school attracts attention internationally with its innovative program to cultivate talent and allow it to flourish in many new areas.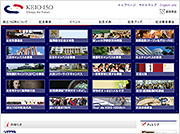 Keio SDM is the first graduate school in Japan to establish, as the research subject, modern "systems", which are vast, extremely complex, and possess the latest technologies.
Keio SDM believes it is not enough to just study books and have everyday experiences to understand and effectively run the "systems".  When we say "systems", we are referring not just to computer systems, but all kinds of systems.  We must learn from the pioneers who actually created these vast "systems" that are now at the forefront of modern society and who, sometimes, have suffered failures.