Building Information
Hiyoshi Campus Collaboration Complex
The construction of the Collaboration Complex was completed in August 2008 to mark the 150th anniversary of the founding of Keio University.  The building contains three independent graduate schools: the Graduate Schools of System Design and Management (SDM), Media Design, and Business Administration.  Exercise, sport and culture facilities are also available.  It provides not just a place to create new activities, but an opportunity for students to communicate and work together with people of all generations and backgrounds.
Educational/Research Facilities and Classroom
Concurrent Design Facility (CDF) (at the 3rd floor of the Collaboration Complex)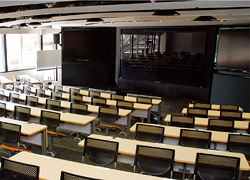 Cutting-edge Concurrent Design Facility
The SDM installed the Concurrent Design Facility (CDF) as one of its core research and educational facilities. The state-of-the-art display equipment is built around 4K three-dimensional imaging and lends itself to a wide range of uses. It is both a display for ordinary classroom presentations, distance learning and teleconferencing, and also an experimental device suitable to group work in systems design, simulation and visualization.
Floors
The Collaboration Complex consists of two areas.
Exclusive to Keio students and staff
Open to public
Facilities run by Keio (2F)

Fujiwara Hiroshi Hall



Event Hall


Multi-purpose classrooms

General facilities (B1F-2F)

Open style gymnasium



Nursery facility



Pub



Cafe



Pharmacy


Clinic



Convenience store


Floor Plan
 
Functions
7
Accommodations
6
Faculty Rooms - SMD & Keio Media Design (KMD)
5
Faculty Rooms - Keio Business School (KBS)
4
Library, Class Rooms -KBS
3
Class Rooms - SMD & Keio Media Design (KMD)
2
Offices
Auditorium
(500-person capacity)
1
Utilities
B1
Swimming Pool & Athletic Rooms
B2
Parking Lot