Who are our students?
Our students in the Graduate School of System Design and Management (Keio SDM) are of all ages and come from a wide variety of backgrounds, including employees and officials (both young and experienced) from private public sectors. We also have recent graduates. Through core courses in subjects such as strategic system engineering methods and design projects, students master practical system design techniques and comprehensive management ability (including communication skills), and they acquire a global vision that is cultivated by international interaction.
Our aim is to provide a melting pot that brings together industry, government, and academia, and fuses the humanities and sciences. This permits students to form networks of contacts through interaction with people from other fields as they - themselves - develop into: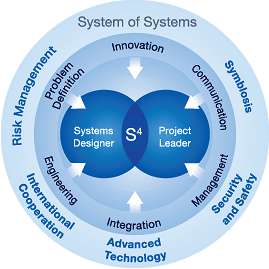 S4 :
Safety
Security
Symbiosis
Sustainability
Creative systems designers - capable of proposing and achieving new technological and social systems to meet global and diverse values and interests in the rapidly changing social and development environment, and leading business in the new markets created.
Innovative project leaders - capable of highly reliable, innovative management and operation throughout an entire system lifecycle: from conception and design to construction, operation, and disposal of more complex, advanced, and large-scale technological systems.
There are four factors that set Keio SDM's education and research apart.
First, it is based on scientific methods. At its foundation is the academic discipline of V model systems engineering, which we use to systematically analyze and model social problems and systems, running simulations to elucidate and evaluate challenges and formulate recommendations for systems that anticipate the future. Students learn a variety of analytical techniques, creativity techniques, design techniques, and mathematical foundations.
The second is our emphasis on group discussion, communication and case studies. These are also emphasized in MBA and MOT programs, but we use them in conjunction with the scientific method to enable creative, prescient, and reliable system design.
The third factor is that we go beyond merely understanding large, complex social systems, natural systems and technology systems to provide innovative architecture, design, and conceptual recommendations, as well as their evaluation and verification. On this point, we differ from conventional social sciences, which are often criticized for attempting to understand society without having done the conceptual design.
The fourth and final factor is that our classes are based on international collaboration, as exemplified by the "Design Project" project work, which is conducted in cooperation with a number of universities overseas. However, we do more than just learn the approaches and techniques of Europe and North America. We also study the system design techniques employed by Japan's top companies and develop our own, unique Keio theory of system design. Education at the School provides a comprehensive, systematic introduction to today's most advanced techniques and approaches.
We can offer education that fulfills these four factors because our faculty has a wealth of international and corporate experience and our students come from many different professions, age groups and nationalities: new graduates, manufacturers, service industries, think tanks, construction, finance, art, mass media, consulting, law, government, teaching and business management. The most important feature of all is the sheer energy that you find at Keio SDM. Students and faculty alike are enthused at the prospect of creating a graduate school unlike any other in the world. These are people who want to better themselves, change Japan, and change the world. They work as a group to polish their skills and develop into global-class leaders. That is what education at Keio SDM is all about.
Attitudes and skills
| Attitudes | Skills |
| --- | --- |
| People with international perspectives and firm convictions | International perspectives, ethics, convictions, dignity, adaptability |
| People capable of flexible, sensitive, creative thought | Creativity, ability to grasp social trends, needs-orientation, innovation |
| People capable of making full use of specific technology platforms to solve problems | Problem identification and solving skills, technology integration skills, risk management, IT skills |
| People skilled in facilitation | Teamwork, communications, presentation and English skills |
| Leaders capable of flexibly motivating organizations and teams | Business sense, management skills, project management skills, professional skills |