What makes an SDM education unique?
Students in the master's course acquire general design and management expertise in core subjects that include both strategic systems engineering methodologies and communications skills. In the "Design Project" they work on the design of innovative systems concepts. Students can also take a variety of subjects that deepen their expertise, polish their skills, and give them a more global perspective. In the "Research on System Design and Management" special research subject (master's thesis), they write a thesis on their two years (standard) of research and the findings that they have published in Japan or other countries. Students are encouraged to participate in group project research and are given opportunities to work with numerous faculty members and other students in our various laboratories (research units).
The doctoral course focuses on research, but students are strongly recommended to take core subjects and a project subject to ensure their mastery of basic systems engineering as well as system design and management studies.
Faculty guidance
We recommend that prospective students talk about their research and plans with the faculty members under whom they wish to study before entering the Graduate School of System Design and Management (Keio SDM).
Research advisors will be selected after matriculation, but the school emphasizes broad human interactions; students are free to seek advice and guidance from any faculty member.
Approaches studied at Keio SDM
Keio SDM teaches many different methodologies, approaches, and techniques for the design and management of large, complex systems.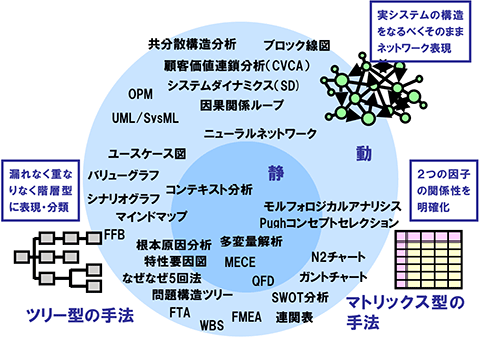 This diagram represents some of the methods and approaches taught at Keio SDM.
For example, CVCA, OPM, value graphs, scenario graphs, mind maps, QFD, morphological analysis, Pugh concept selection, and other approaches are taught in the "Design Project" which is an internationally coordinated course in team-based structuring of design concepts.
Other methods are covered in system thinking, logical thinking, control engineering, and business subjects.
However, these are not the only techniques and approaches that students will encounter. Nor do studies end once the technique is understood. The emphasis is on gaining the ability to view the system as a whole and to decide when and how to apply techniques to solve problems; for example, which approaches to use in a V model-based system design process.