The philosophies and features of SDM
SDM studies redesign the future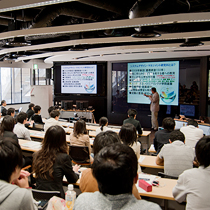 Philosophy: An overarching, integrated discipline that paves the way to the future

Traditional, compartmentalized academic disciplines are inadequate in the face of the large, complex issues that face our society. What we require is an overarching, integrated discipline that is able to take a macro view of issues and design solutions that are coherent overall and then are refined and perfected at the micro level. The Graduate School of System Design and Management (Keio SDM) is training the next generation of leaders who will be in the forefront. Together we produce practical results that contribute to a better world.
History
Keio SDM is a graduate-level institution founded by Keio University in 2008 to commemorate its 150th anniversary. It provides research and education into a new, practical discipline also called SDM; system design and management. Our student body consists of new university graduates who want to study the idea of "systems" as well as business people who already have their own areas of experience and expertise and are returning to school. Together we learn the skills and acquire the insights necessary to creatively design overarching systems that consider many different values and priorities, including symbiosis with the environment, social harmony, peace of mind and safety, and health and welfare. It is a place for ambitious people who want to change themselves and change the world.
Practical studies in systems, design and management
SDM is an interdisciplinary school that integrates humanities and sciences on the basis of systems engineering, system thinking, design thinking, and project management. We learn the methodologies and techniques required to design and manage new technology systems and social systems while rigorously addressing issues of symbiosis with the environment, confidence and safety, and health and welfare.

Master's students study the entire range of the discipline through the following: core subjects (basic classes on systems engineering and how to view and work with systems), design project (collaborating as a team to create innovative solutions while mastering the basics of design thinking), SDM research (experience in practical research), and major subjects (extensions of Keio SDM studies in individual areas of expertise).

Doctoral courses focus primarily on research, but students are strongly recommended to complete the subjects required for the master's course.
SDM: A mosaic
Keio SDM goes beyond academic disciplines and national borders to create systems that have never existed previously. The faculty brings a wealth of international and business experience. Students come from all ages and walks of life, and many different nationalities add to this mosaic. Their backgrounds include manufacturing, services, think tanks, finance, architecture, art, mass media, consulting, law, central government, local government, education and business management. The school is a magnet for the ambitious, a place of enthusiasm and passion unlike any graduate school to date. We are more systematic than MBA/MOT programs, have a wider matrix of values than science/engineering, are more analytical than the social sciences, and are more practical than philosophy studies. Unlike professional schools, we conduct advanced research. Our work is interdisciplinary, and we seek to create systems and solutions for the future that will be good for both the environment and human beings.
Research areas: Designing and managing phenomena as systems
So what do people actually study at Keio SDM? Science and technology systems; global environmental problems; symbiotic systems; safety and security; human interfaces; information, communications and media; mobility; city spaces and living spaces; regions and communities; organizations; healthcare and pharmaceutical; agriculture and forestry; aerospace; marine engineering; diplomacy; politics; economics; business management; marketing; consulting; education; sociology; psychology; art; physical education; literature; philosophy. In other words, we study everything. But there is one thing we all have in common; we do not just research our own fields of specialty. We only undertake detailed research after we have rigorously identified social needs. This goes beyond mere surveys and overviews. Our focus is on designing new systems and verifying and validating how they work. In short, we use the overarching, integrated principles of systems engineering and SDM studies to design and manage systems of all kinds and sizes. It is this common framework that enables such an expansive field of research.
Innovative education: Flexible class hours, e-learning, classes in English
One of the features of Keio SDM is the breadth of its student body. Many of our students also have jobs, but many are new graduates as well. We have many international students, which presents a wide range of needs and requires an innovative approach; Keio SDM is an international discipline, so our curriculum can be studied in either Japanese or English. Students beginning in the spring semester are taught in Japanese; students beginning in the fall are taught in English. Classes in English are open to students on the Japanese course, and classes in Japanese are open to students on the English course.

Working students who have to juggle classes and their job duties can take advantage of our e-learning system, which allows them to view videos of the designated e-learning classes over the internet.