1st course: September 14- 18, 2009
2nd course: November 11- 12 and November 30-December 1, 2010 > REPORT
Hosted by the SDM Research Institute
@ Hiyoshi Campus Collaboration Complex
Reservation required
Fees apply
Project Leader Training Course objectives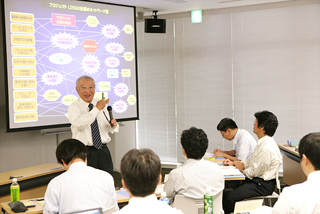 "To see the trees and also the forest." Project leaders require the ability to see every detail of each individual tree while also having a balanced picture of the entire forest. The generation that experienced and overcame the adversities of the High Growth Period is now entering retirement, and the OJT methods of the past cannot train leaders as fast as they are required. The Research Institute therefore proposed a new government-academia approach to human resources development that led to the first "Project Leader Training Course." Our goal is to train the next generation of leaders by developing a new project management approach based on the ideas of "system design and management" regarding the visualization of difficult, complex problems to arrive at solutions that incorporate multiple perspectives.
Subjects offered
This course utilizes workshops to train project leaders such as project managers (PM) and technology leaders. It is based on the following five pillars:
1 Project management (PMT)
The business environment for projects is becoming ever more complex and demanding. It is essential that managers understand and are able to use the techniques of PMT if they are to move projects forward effectively. We examine scenarios for success, techniques that leaders must possess and then refine, the foundations of project-oriented companies and guidelines for leader training. Instructor experiences are used to illustrate these concepts.
2 System design and management (SDM)
In projects where there are multiple stakeholders, it is crucial to incorporate multiple perspectives, to be able to "see the trees and also the forest." Participants learn the SDM flow, from requirements analysis to system design, decomposition, construction, integration and administration. In the process, they master techniques of system thinking, problem visualization and decision-making.
3 Teamwork management
It is vital that members of a project share the same purposes, values and information. Individual members must perform a variety of complex tasks while negotiating and coordinating with each other according to the project's overall progress. The ability to inspire and manage teamwork will be an important tool for Japanese companies as well as a strategy for differentiation.
4 Contract risk management
Japanese people generally don't consider issues from a legal perspective. It is not uncommon for world-class technology to fail because of errors in the way that contract risk is handled. We teach leaders basic "legal sense" (contract sense) that they will need for their job.
5 Foundations of corporate management
This portion of the course instills a deeper understanding of systematic management systems by identifying the functions that companies must manage as they conduct projects, the construction of technology foundations for project implementation, and the identification of the elements that a company most requires and is most adept at. In the process, participants learn how to effectively conduct a wide range of projects, including the development of new technologies, products and services, the pioneering of new markets, and the startup of new businesses.
Instructors

Chief Trainer
Yoshikuni TAKAHASHI
Advisor, JGC Project Services Co., Ltd.; Lecturer, Graduate School of SDM, Keio University
Joined JGC Corp. in 1964 and served as a project manager for numerous domestic and international projects, including petroleum refining, chemical, food processing, consumer electronics and automotive plants. Was a member of the Project Management Subcommittee of the Engineering Advancement Association of Japan during the 1980s. Currently teaches courses on PMT at the university level, gives lectures and speeches, and provides consulting services.

Kunihiko FURUYA
Professor, Faculty of Law, Kyushu International University
Graduated with a degree in political science from the Faculty of Law, Keio University in 1966. Joined JGC Corp., a general engineering firm, that same year. Spent his career in the legal affairs department, where he was responsible for international contracts (projects, intellectual property licensing, and the M&A deals etc.). Accepted current position to teach international trade law in 2000.

Mitsugu IWASHITA
Director, Intercultural and Business Communication Center
Lecturer, Graduate School of SDM, Keio University
Spent two years in the doctoral course at University of Southern California where he coached "Debate and Argumentation." Was later involved in and provided advice to seminars on management systems formulation, market strategy formulation ,and effective techniques of internal and external negotiation for companies moving overseas, including Yamatake, Mazda Motor, Denso, NEC and IBM.
Seiko SHIRASAKA
Associate Professor, Graduate School of SDM, Keio University
Areas of expertise: Aerospace engineering, systems engineering
Coordinator
Testuya TOMA
Project Management Professional (PMP) 
Associate Professor, Graduate School of SDM, Keio University
Areas of expertise: Advanced system development and global marketing for broadband society