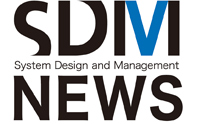 The monthly SDM Newsletter provides updates on educational and research activities in the Graduate School of System Design and Management and the SDM Research Institute to their supporters. Back issues are available for download from this page.
If you would like to subscribe to the SDM Newsletter by email, please write to us using the following Contact Form.
SDM Newsletters in Japanese are also available here.