News
SDM News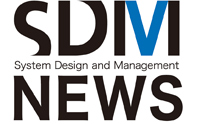 The monthly SDM Newsletter provides updates on educational and research activities in the Graduate School of System Design and Management and the SDM Research Institute to their supporters. Back issues are available for download from this page.
If you would like to subscribe to the SDM Newsletter by email, please write to us using the following Contact Form.
SDM Newsletters in Japanese are also available here.
Message from the Faculty
Building System-Oriented Nation Based on Science and Humanities

(Tetsuro Ogi, Professor)

It has been a while since science, as opposed to the humanities, lost its popularity among students in Japan.
Considering that science and technology have been the driving force behind the nation's prosperity, I am afraid that this phenomenon could lead to the deterioration of Japan's national strength. Science and technology-related subjects, such as mathematics and physics, require students to patiently accumulate knowledge. This may be one of the reasons why students find it difficult to visualize whether what they are studying will be of any use. The same is true for university-level research. Some students study component technology without really understanding how that particular technology can be applied or how it will fit into the bigger picture. This is an example of failing to see the whole picture as a system. I believe that the study and research of science will be more interesting if one tries to see where a particular knowledge is leading to and how the technology can be applied. At Keio SDM we do not distinguish science from the humanities. Rather, we promote the education of system design, integrating science and the humanities. Students are encouraged to see the bigger picture based on scientific thinking while dealing with a wide range of issues, from detail technology to applied business, based on thought from both science and the humanities. I believe that education as such will make Japan more system-oriented, thereby contributing to building a stronger nation.

Laboratory Profile

Regional Development and Vitalization Laboratory

Spatial Location-Based Service Laboratory

TOPICS

1. Keio Innovative Design School (KiDS) Workshop

2. Keio SDM Extension Lecture, "Workshop on Systems: Taking Panoramic View of All Things for Systematic Execution"

3. Keio SDM Extension Lecture, "Tips for Reaching Hearts: Proposals to Win the Hearts and Minds of People"

4. Debriefing and Informational Session for Study Abroad/Exchange Programs
Message from the Director and Dean
Solving Problems with the "Systemic x Systematic" Approach

(Takashi Maeno, Director, SDM Research Institute Dean)

A Happy New Year! Keio SDM's catch-word for this year is "system." As we mainly featured "design" last year, we will go back to the basics and focus on "system" this year.
A system is something that is created from relationships between elements. Anything that contains interactions, from technological interactions to social and human interactions, is a system. At Keio SDM we place emphasis on "systems approach" which is based upon systems engineering. There are two meanings to the systems approach: one is systemic approach; and the other is systematic approach. The former urges us to take a panoramic view of things as a system; while the latter guides us to decompose and integrate things logically. Keio SDM utilizes both of these approaches so as to pursue innovative design and sustainable management. Our mission is to nurture human resources who understand the systems approach, to conduct practical research concerning the basics and applications of SDM Studies, and to solve problems for social change by collaborating with different entities on various levels. We will continue our endeavor to create a better world this year. Your continued guidance and support are greatly appreciated.
The SDM News will feature messages from the faculty on the first page again this year. Twelve supervising Professors/Associate Professors will take turns expressing their thoughts concerning Keio SDM. Our journey will continue this year with a view to solving problems based on the systems approach for betterment of society. Please count on us!

Laboratory Profile

The Entrepreneur Laboratory

The Advanced City Design Laboratory

TOPICS

1. A Visit to Nishijima Corporation on Nov 12: A Company with No Retirement System

2. The Sixth Information Session of Keio SDM

3. A Visit to Toei Animation Co., Ltd.

4. The First Future Design Conference

5. Experiment of High-Definition Medical Video at School of Medicine on December 17-18