Voices
Students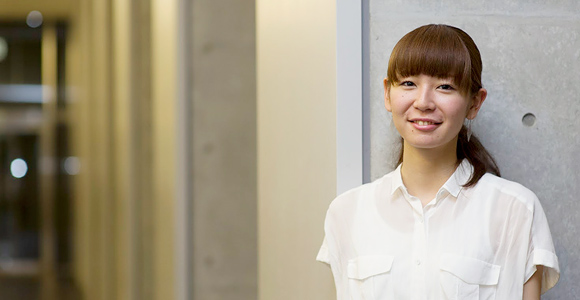 Megumi Ichikawa
(entered spring 2011), graduated from Chuo University Senior High School in March 2007
Graduated with a degree in sociology from the Faculty of Letters at Chuo University in March 2011
Why I chose SDM
I wanted to go to SDM because it seemed like somewhere I could do exactly what I wanted to. Ever since I started my undergraduate program, I have wanted to study abroad, but never had the opportunity. That is why my two main criteria for graduate school were that my research must contribute to society, and I must be able to fulfill my ambition to study abroad. Those criteria led me to SDM.
At SDM, you can complete a master's degree in two years even if you study abroad. As I understand it, ordinary graduate schools require three years to complete the master's, or may not even allow study abroad until the PhD level. SDM, therefore, stood out for me; it was exactly what I wanted. I think this comes directly from SDM's educational philosophy of training leaders for a globalized world.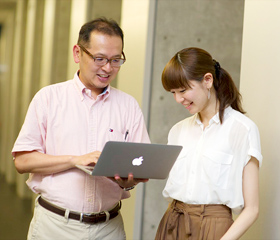 Obviously, study abroad was not the only factor in my decision. I was also attracted by the fact that SDM not only did research, but also used classes and projects to help you master new knowledge. I majored in sociology as an undergraduate, and "system design and management" was a completely unknown field to me. It was a challenge, but my curiosity about exploring a new academic discipline won out over my fear. I was also attracted by the large percentage of returning students at the school and the potential to learn much from them about how to give presentations and approach group work.
Another factor that distinguished SDM was how it gathered together people from completely different areas of research into a single academic department. The topics being studied are incredibly wide, everything from space and robots to movies, art, and music. If you study in a department devoted to your area of research, you will certainly obtain a great deal of knowledge, but I did not think that was enough. As you research a field, you naturally become familiar with it, and if everybody around you has more or less the same knowledge, there is very little that you can give them and they can give you. I didn't want to end up being uncomfortable the moment I stepped out of my chosen field; I wanted to be able to speak with confidence even when the topic was something that I had not studied.
The invaluable experiences of group work
This is an excellent, stimulating research environment, and probably the most lasting impression for me was the design project ALPS. Instructors from Massachusetts Institute of Technology, Stanford University and Delft University of Technology taught us tools for system design, and then we were asked to design systems that satisfied the requirements laid out by the proposer companies. Classes were conducted entirely in English, and our team presentations had to be in English as well. I was made keenly aware of the need for language skills. Even more, though, I learned both the difficulty and the satisfaction that comes from group work and trying to bring multiple people together to achieve something. I also learned the difficulty of designing systems that truly satisfy corporate requirements. These are things that you would ordinarily not experience until you're out in the working world, but we were able to do so as students. I think these experiences will be of great help to me in my future employment.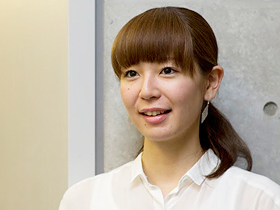 My research focuses on using France's AMAP as a model for the spread of community supported agriculture (CSA) in Japan. Since I am researching systems in France, I took advantage of the SDM study abroad program to travel there. In France, I took master's level classes in agriculture to develop my knowledge. I also had a chance to improve my English and French skills. I was also able to do my research on site in France rather than simply complete an assigned task.
To me, SDM is a kitchen. The school gives you opportunities, but it is up to you how you create the dish. It is you who determines its flavor. However, there are also people on the sidelines watching your cooking and advising and helping to ensure that the final dish is delicious. They may be faculty members, or they may be senior students. Sometimes they are even people in your class and you help each other out. I think SDM is a place where maximum efforts are required, but you can take on any challenge.