Voices
Students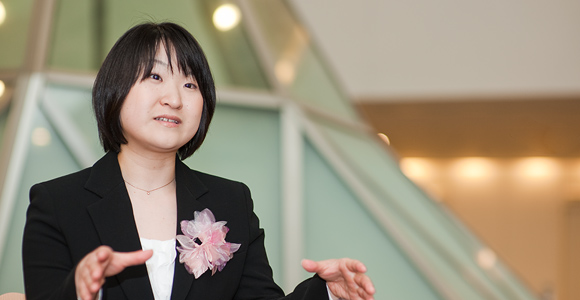 SDM is a wonderful place
that is full of opportunities; a place
you can work hard to reach your goals
Tomomi Nonaka
Graduate Student of March 2010
Degree awarded by SDM: Master of System Engineering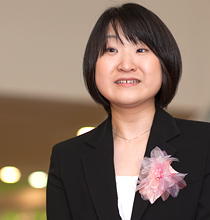 Ms. Nonaka earned a bachelor's degree at the Faculty of Environment and Information Studies, Keio University Shonan Fujisawa Campus. Her research topic was the evaluation of the walk environment based on eye movement and psycho-physical quantity. She analyzed how the width of a walkway affects the level of stress that pedestrians experience. Study participants walked back and forth on artificial hallways created on campus wearing a camera that recorded their eye movement. She analyzed how a 5cm width difference affected the walkers' eye movement and psychology. She enjoyed the research very much.

Her current research in the energy environment area relates to the research she conducted in her undergraduate years, when she won the SFC award for her thesis.

After graduation, Ms. Nonaka worked for a venture company doing search engine marketing and web marketing for four years. She left to enroll in the SDM master's course in spring of 2008.
To further her research on System Design and Management
Ms. Nonaka found it a valuable experience to work with people from different fields and with different backgrounds that she would not have met otherwise. Students networked, voluntarily held study sessions and workshops, and actively communicated with each other. She learned a lot—not only in lectures and from professors—but also from other students. Because many students at SDM continue to work while studying, there are opportunities to work and discuss your ideas with business managers, specialists, young and experienced workers, and recent graduates in classes and group work. Ms. Nonaka is now in her third year in SDM; she enrolled in the doctoral course this spring. She finds SDM is rapidly changing. The number of courses taught in English is increasing, including special courses taught by foreign professors. She is determined to utilizing SDM's environment in her research and to meet her goal of being a professional with global success.

Ms. Nonaka wanted to further her research on system design and management, the core of SDM. She is studying environmental symbiosis and safe and secure system design with a focus on energy and the environment. Her research theme is "Social system design using LCA for the penetration of the next-generation vehicles."
Business Engineering Laboratory
The Business Engineering Laboratory currently has 29 students under the instruction of Prof. Masaru Nakano, Prof. Richard Greene and Assistant Prof. Nobuaki Minato. There are also many foreign students. "Research" and "internationalization" are the keywords in the lab.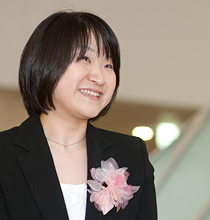 Ms. Nonaka reached breakthroughs in her research, not only from the excellent instruction by professors, but also through discussion and consulting with other students. Ms. Nonaka is grateful for the friendly environment in the lab, and particularly enjoyed the summer camp, which is full of projects planned by the first year students in the master's course.
Looking back on her two years in SDM
The time passed quickly, and Ms. Nonaka feels her aspirations and goals changed a great deal during those two years. She never dreamed to go abroad to study during the master's course. She is now more motivated to reach her goal.

Ms. Nonaka thinks that SDM is a wonderful place that is full of opportunities; a place you can work hard to reach your goals. She is grateful to be a part of SDM.