You don't just absorb theory,
you conduct research that actually
makes a difference.
Derk Busser
2009 Exchange Student  
From TU Delft, the Netherlands
Derk Busser thinks that his time at SDM has been a great experience. He has met a lot of highly intellectual and motivated students and faculty that work closely together to tackle interesting research topics. During his time at SDM, he participated in Active Learning Project Sequence (ALPS) together with a group of Japanese students. He created an iPhone application using scenario-based Amorphous Design. Going through different stages of development, they used techniques such as brainstorming, customer value analysis, and rapid prototyping to turn their concept into a fully specified service and product. Besides ALPS, he followed courses on project management, communications, and systems architecture and wrote a conference paper for the Indoor Messaging System, an extension to GPS that makes it possible to use navigation inside of buildings. At SDM, research is important; you don't just absorb theory, you conduct research that actually makes a difference.
Completely new culture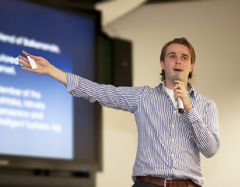 He's gotten to know a completely new culture, as it was his first time in Asia. He traveled around Japan to places such as Kyoto, Osaka and Hiroshima and got a good impression of the rich history of this country. Next to the traveling, living in Tokyo is amazing. During the nights and weekends he explored this enormous city with friends from SDM and other people that he met. The city has something for everybody; great food, music, amusement parks, shopping, clubs, sports clubs, you name it.
He learned a lot from his period at SDM and he is positively sure that he will use all that he has learned during this experience for the rest of his life. Not only is SDM's program very good, the social interaction and environment in Japan is very special and unique.