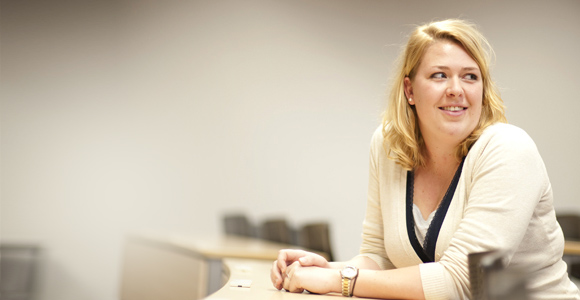 SDM has a very personal approach
towards students.
Annemarijn Jelsma
2009 Exchange Student
From TU Delft, the Netherlands
Before Annemarijn Jelsma (Anna) came to SDM, she didn't have much of an impression; she had only seen the Japanese brochure and website, so she didn't understand much. But when she finally arrived here, it all became very clear very fast. The welcome was very personal and complete.
Personal Approach from the faculty
What she liked very much at SDM was the way the faculty approached the students. Unlike other universities/graduate schools, SDM has a very personal approach towards students and there was a lot of interaction between professors and student during the lectures. Another very practical thing she liked about SDM was the big rooms. It is a nice atmosphere for the students to meet in and a very comfortable space to study.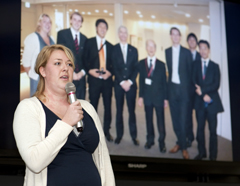 What she liked the most during her stay in Japan was the friendliness and hospitality. "Outside", Japanese people were always willing to help you, even if you didn't understand a word. "Inside" SDM, the Japanese students were very interested in you, helpful, and willing to share their country and culture.
The biggest difference between TPM and SDM was the way of teaching. Where TPM focuses on theory, SDM is very project-based and focuses on implementation as well as theory. Another difference is the focus on English in the courses. At TU Delft, all Masters' level courses are taught in English and the materials are in English as well. SDM doesn't use English fully yet, but they are getting there. For example, the SDM website was only in Japanese when we came but they changed it to English when we commented on it.
Work in reality in a totally different culture.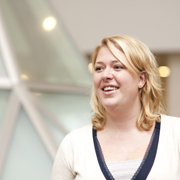 In her opinion, every student should study abroad for a while. Living independently in an entirely different culture than your own is a good opportunity for personal growth. This completely new and very different Japanese culture was an experience she will never forget. She thinks that companies nowadays like to hire people who have studied abroad above those who haven't. Globalization requires knowledge about other countries and cultures and gives you an advantage over those who have not had that experience.
She would recommend SDM to those students who would like to experience a totally different culture that they can't even imagine and especially to those who are interested in not only thinking of solutions, but also trying to make them work in reality.
SDM is a place to meet great new friends (Japanese and other nationalities) in an environment where you don't only think about solutions for problems, but you also get the opportunity to try to make them work.