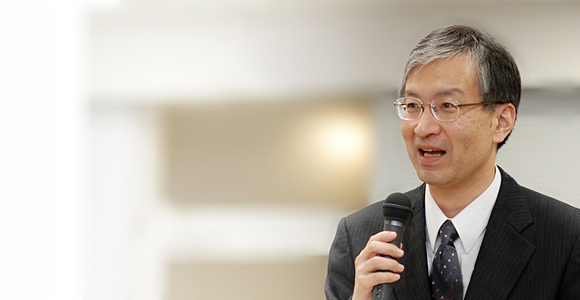 Toshiyuki YASUI, Ph.D. Guest Professor, Graduate School of SDM, Keio University
SDM is where unconventional thinkers from various disciplines share their wisdom and insights to find innovative solutions.
Biography
Upon graduating from the University of Tokyo (BA in International Relations) in 1985, Toshiyuki Yasui joined the Japanese Ministry of Finance. He spent 25 years in various government posts including Councilor for the Financial Services Agency (2008-2009), Director for the FILP Research & Planning Office of the Ministry of Finance (2000-2001), and First Secretary in the Embassy of Japan for India (1992-1995). He also worked as Senior Fellow of the Institute of JBIC (2001-2005) and Trainee-Consultant for the OECD (1987-1989). He is a former Visiting Professor of Chuo University (2007-2008).
Currently he also works for National Graduate Institute for Policy Studies as visiting professor. He earned Ph.D. in Graduate School of Liberal Arts, International Christian University.
Research Interests
Public policy systems, Socio-critical systems, particularly Systems of Finance, and Currency, financial intelligence, and competitive intelligence
Major Publications/Awards
Books
Trembling Taiwan Straits; Future of Boiling Nationalism. Chuo-Koron Shinsha. 2005.
Insurance Business Law: Points of Small-Scale Short-Term Insurances Companies Q&A. Hokenmainishi-Shimbun-Sha. 2006 (edited & co-authored).
Papers
Claim-Payment Failures of Japan's Insurance Companies and Designing Better Payment Architecture. INCOSE Singapore Proceedings. July 2009.
Birth and Development of Financial Intelligence, Intelligence Management, the Japan Society of Competitive Intelligence, Vol.1, No.1/2009, September 2009.
Academic Affiliations
INCOSE
Japan Society of Monetary Economics (JSME)
Japan Society of Household Economics
Japanese Association of Risk,. Insurance and Pensions (JARIP)
Japan Association of International Relations (JAIR)
Japan Association for Social and Economic Systems Studies (JASESS)
Japanese Society for Public
Administration Public Policy Studies Association Japan (PPSAJ)
Japan Society of International Economics
Japan Society for Urbanology
Japan Society of Competitive Intelligence (CI)
Japan Society of Cost Estimating & Analysis (JSCEA)
Network for Policy Analysis
American Society for Public Administration
Project Management Institute
Project Management Association of Japan
Research Groups
Socio-Critical system Laboratory
Next Generation Contents Laboratory
VERSTA Laboratory
Social Life System Laboratory
Local Resource Utilization Laboratory
Agricultural laboratory
Symbiotic System Design Laboratory