The diversity of the research topics
made each meeting a surprise.
Frank Pijnenborg
2009 Exchange Student
From TU Delft, the Netherlands
Warm personal Contact from faculty and students
SDM's relatively small number of students allows for a lot of personal contact with professors. Besides that, most of the project-based courses are taught in English, so you have the chance to collaborate in a multi-cultural environment. During his stay, students came from Europe, Africa, America and several Asian countries. In his opinion, this multi-cultural experience was most valuable. Although the population of foreign students is much larger at Delft, he hardly ever had a chance to collaborate with them. SDM encourages the Japanese students to take the courses taught in English so that collaboration with them is ensured.
Because SDM has a very short history, some of the services were not really accessible for those of them who couldn't speak or write Japanese. He sometimes faced difficulty using the sites, library, facilities, etc. Fortunately, the Japanese students were happy to help the international students so it always worked out. Though the number of courses taught in English was limited during his stay, Keio SDM had the foresight to arrange some additional activities in which international students could participate. For example, students explained their own research in the research labs and received feedback from the professors and other students. It was very interesting for him; the diversity of the research topics made each meeting a surprise. It also exposed him to a wide range of subjects and different approaches to research.
Creative in Japanese culture and life
His study at Keio SDM has broadened his worldview. It is almost impossible to compare the Japanese culture and way of life with the European style. Respect and structure are the main elements in this country that is bursting with technological innovation. Some of those fundamentals are not evident anymore in his own country, The Netherlands. Yet, the Dutch attitude of tolerance is something the Japanese could learn from. Hopefully he can use his experiences in both cultures in his future job.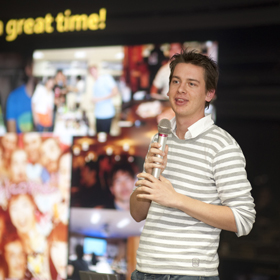 For students all over the world interested in System Design, System Architecture and Management, Keio SDM is an interesting choice. Studying at SDM will get you in touch with the Japanese culture, their way of doing business, and the remarkable lifestyle of the Japanese people. As the courses at SDM require the students to be creative, potential students should possess some creativity, in his opinion. Especially the Active Learning Project Sequence (ALPS) is a good example of this need for creativity. This is a project in which you start from nothing. With several tools offered by professors from Stanford and MIT, you and your project members will work toward a surprising outcome. In 2009/2010 class, all ALPS groups had creative outcomes. ALPS requires a significant amount of effort, but the students find it quite rewarding.
His stay at Keio SDM has given him wonderful memories and useful skills. He hopes to stay in touch with his fellow students and his professors in the future.