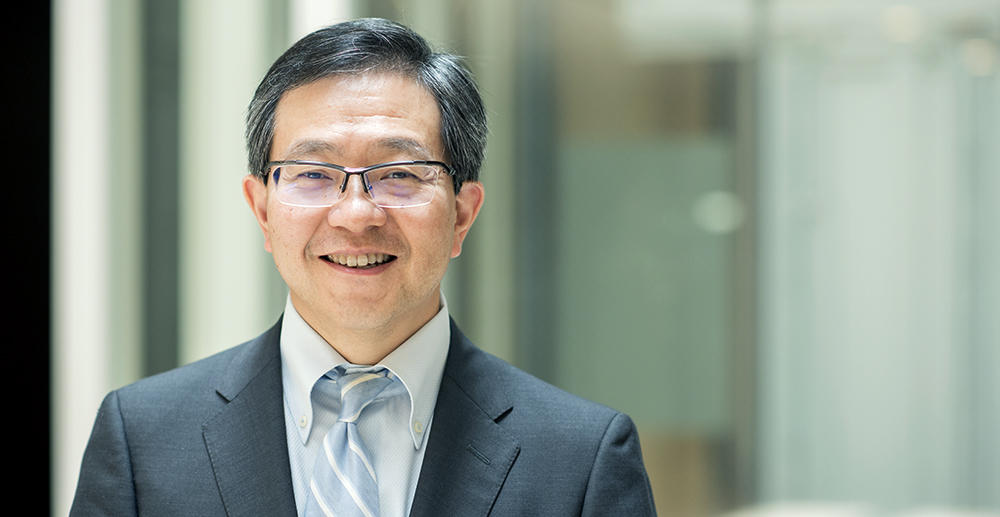 Tetsuya TOMA Professor, Graduate School of SDM, Keio University
"SDM is the first penguin, jumping into
an unknown ocean with great courage
to lead the way."
Biography
Tetsuya Toma worked for 3M in USA as an advanced product development specialist after he obtained a master's degree in Applied Chemistry. He developed various new products and successfully introduced them to the market.Known for his wide experienceand flexible project management skills , he has won several company awards .
In April 2008 hejoined SDM as an associate professor.
Research Interests
Program/project management and communication design for communities such as medical/health care, education or local resource utilization
Major Publications
"New Graded-Index Optical Materials from Anionic Polymerization and Diffused Copolymerization, and Optical Devices Based Thereon," Yasuji Otsuka, Yasuhiro Koike, Tetsuya Toma, Takayuki Osawa, 37 Annual Meeting of The Society of Polymer Science, Japan (1988)
"Is Remote Healthcare Possible in Developing Countries? Focusing on Medical Information Systems in India,"

Jitsuzo Katsumata

, Tetsuya Toma, Tetsuro Ogi, Academic Conference of the Japan Telemedicine and Telecare Association (2009)
"Evaluation of Systems Development Approach Using a Combination of OPM and Scorecarding,"

Hiraku Oka

, Tetsuya Toma, 5th National Conference of the Information Systems Society of Japan (2009)
Intellectual Property Rights
US2007/0279773, Light Directing Film, 2007
WO 2005/062082, Brightness Enhancing Film Composition, 2005
JP2002-332465A, Thermosetting adhesive composition, 2002
WO 01/64805, Release Material, Release Material Article, and Process for Producing the Release Material Article, 2001
WO 01/14766, Constraint-Type Viscoelastic Dampers, 2001
Qualifications and Awards
PMP (Project Management Professional)
3M Global Sales and Marketing Professionalism Award 1999
3M Technical Circle of Excellence Team Award 1998, 1999
3M Annual Event Communication Excellence Award 1998
3M ASUKA Funding Program Winner
3M Pathfinder Award 2000
3M Golden Step Award 2005, 2006 (4 awards)
Academic Affiliations
Vice chairman of the Committee of Fiber-to-the-display Project
International Cooperative of Plastic Optical Fibers Committee Member
POF2010 Local Steering Committee Vice Chair
Project Management Association of Japan, Chair of Education and Training Service Division
(Director for Education)
Researcher, Promotion Program for Reducing Global Environmental Load through ICT Innovation (PREDICT) promoted by Ministry of Internal Affairs and Communications
Sub-Theme Leader, Funding Program for World-Leading Innovative R&D on Science and Technology, Cabinet Office
Reference
Harvard Business Review, November 2009
Bizteria Vol.22(April 2009)
Research Groups
Communication Design Laboratory
VSE Center (Japanese VSE Center)
Local Resource Utilization Laboratory