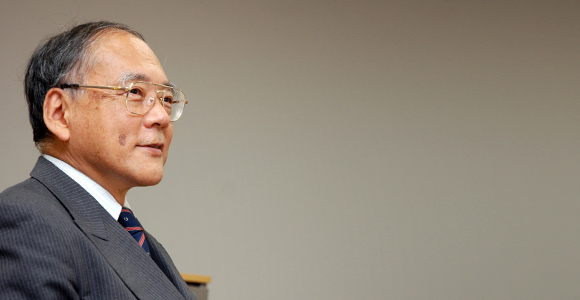 Taketoshi HIBIYA, Ph.D. Former Professor, Graduate School of SDM, Keio University
Executive Advisor of SDM Research Institute, Lecturer
SDM is one of the most flexible organizations that I have ever worked for.
Biography
After obtaining a master's degree in Applied Chemistry, Department of Engineering in Keio University, Taketoshi Hibiya joined NEC Corporation (1971-2001). He earned a Ph.D. in engineering in materials science (1978) and worked as a research fellow in NEC's Fundamental Research Laboratories and as senior researcher for Space Technology Corporation (1986-2004). He was invited to Deutsche Forschungsanstalt für Luft- und Raumfahrt (DLR) as visiting researcher (1997) and Tokyo Institute of Technology as visiting professor (1997-2002). He joined the Department of Aerospace Engineering at the Graduate School of System Design, Tokyo Metropolitan University as professor (2002-2007). He then joined SDM when it was established in April 2008 and retired in March 2011. He is a member of the Science Council of Japan.
Research Interests
Large scale systems engineering (basic science)
Heat/mass transport process
Microgravity science using space environment, where there is no buoyancy and hydrostatic pressure and interfacial behavior is enhanced.
Thermophysical property measurement under microgravity using electromagnetic levitation on board the European experimental module "Columbus"
Major Publications
Book
A. Croll,T. Hibiya, S. Shiratori, K. Kakimoto and L. Liu, Chapter 7 Marangoni Convection in Crystal Growth, in Crystal Growth Processes Based on Capillarity,
Ed. By T. Duffer, John-Wiley, in press (2010).
T. Hibiya and S. Ozawa, "Chapter 3 Marangoni flow and surface tension of high temperature melt" in "High-Temperature Measurements Materials", Series "Advances in Materials Research", pp. 39-59. ed. by H. Fukuyama and Y. Waseda, Springer (2009).
Taketoshi Hibiya, Hiroyuki Fukuyama, Takao Tsukada and Masahito Watanabe, "Thermophysical Properties of Molten Silicon", in "Crystal Growth Technology, From Fundamentals and Simulation to Large-scale Production"Chapter 4, ed. H. J. Scheel and P. Capper, John Wiley-VCH, 2008, pp.103-136.
T. Hibiya and Peter Görnert, "LPE of Garnets, Liquid Phase Epitaxy of Electronic, Optical and Optoelectronic Materials ed. by Peter Capper and M. Mauk,Wiley and Sons, UK, (2007), pp.305-339.
Journal
T. Hibiya, K. Morohoshi and S. Ozawa, Oxygen partial pressure dependence of surface tension and its temperature coefficient for metallic melts: a discussion from the viewpoint of solubility and adsorption of oxygen, Journal of Materials Science, DOI 10.1007/s10853-009-4107-2 (2010)
S. Ozawa, K. MorohoshiT. Hibiya, and H. Fukuyama, Influence of Oxygen Partial Pressure on Surface Tension of Molten Silver, Journal of Applied Physics, vol107, 014910 (2010).
S. Ozawa, T. Koda, M. Adachi, K. Morohoshi, M. Watanabe andT. Hibiya, The influence of temporal phase difference ofm= ±2 oscillations on surface frequency analysis for levitated droplets, Journal of Applied Physics, 106, 034907 (2009)_
T. Hibiya, M. Watanabe, S. Ozawa, T. Tsukada, Thermophysical Property Measurement of Molten Thermophysical Property Measurement of Molten Semiconductors: Preparatory Work for SEMITHERM Program; High Temperature Material Processes ; vol. 27, No6, (2008) 449-460.
N.Yamane, K. Nagafuchi, S. Shiratori, H. Okubo, N. Sato andT. Hibiya, Experimental study on time evolution of Marangoni flow instability in molten silicon bridge,Journal of Materials Science(2005),40, pp. 2221-2225.
Taketoshi Hibiya and Ivan Egry, Thermophysical property measurements of high temperature melts: results from the development and utilization of space, Measurement Science and Technology,16 (2005) pp.317-326
H. Kawamura, H. Fukuyama, M. Watanabe and T. Hibiya, Normal spectral emissivity of undercooled liquid silicon,Measurement Science and Technology, 16,2005, pp.386-393.
Intellectual Property Rights
Patents for Faraday Rotator for an Optical Device
Patent for Magnetooptic Garnet
Academic Affiliations
IEEE Fellow (since 1998)
European Low Gravity Research Association (ELGRA)
Japan Association for Crystal Growth
Japan Society of Microgravity Application,
Japan Society of Applied Physics
The Society for Thermophysical Properties
Awards
2009   Best Paper Award from the Japan Society Welding Engineering Society
2008   Best Paper Award from the Japan Society of Thermophysical Properties
1995   Best Paper Award from the Japan Society of Thermophysical Properties
1994   Best Book Award from Nikkan-Kogyo-Shimbun
1989   Best Paper Awards from the Japan Association for Crystal Growth
1988   Minister Prize of Science and Technology Agency
Research Groups
Science and Technology System Laboratory
Information Systems Perspective Investigation and Requirement Engineering Laboratory (INSPIRE Lab)
Strategic Social Education System Laboratory
Semiconductor Technology Laboratory
Strategic Systems Design Laboratory
Laboratory of Organizational Management