Voices
Students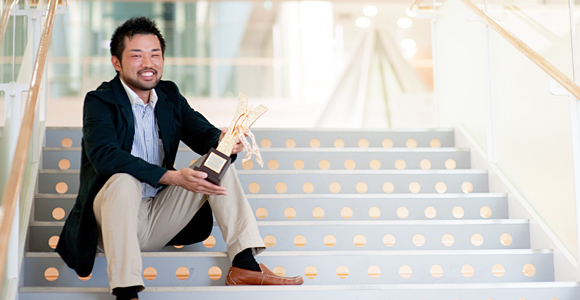 SDM provides the methodology
for students to research and
implement any theme they like.
Hiroyuki Yagita
2009 Spring Admission
Hiroyuki Yagita graduated from Tokyo metropolitan college of aeronautical engineering, Tokyo, Japan in 2000 with an associate degree in mechanical engineering.
Since 2000, he has been working for Mitsubishi Heavy Industries, Ltd. in Kanagawa, Japan as an energy and environmental system engineer. His biggest job experience as an environmental system engineer was to design and construct the ECO CLEAN PLAZA MIYAZAKI, one of the large waste incineration plants in Japan. He is currently a power system engineer. He travels domestically and overseas at customers' request to provide after sales service; to improve efficiency and/or solve an equipment or power system problem. He travels overseas between 30 and 50 days in a year, and domestically, between 50 and 60 days in a year. He's been to UAE, Indonesia, America, England, Belgium, France, Thailand, and Taiwan so far. He will continue to have a lot of opportunities to learn about different cultures in future travels.
At SDM his major research interests are methodology of system life, incubation of creative community, value creation in energy systems, and development of new agri-business.
Learning in diversity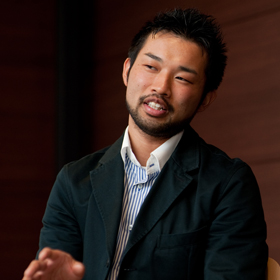 SDM is a graduate school with a radically new concept. In Japan, only SDM provides this type of learning environment; having people from such diverse backgrounds leads to exciting discussions and helps students to learn problem solving. Currently, it is really difficult to identify the true problem in society and determine how to solve it because people have such diverse concepts about what the problem actually is. New ideas and solutions cannot be generated except through discussion with open-minded people from diverse backgrounds. SDM is becoming known as an incubator for solving difficult social problems, and as such, attracts people who want to help plan the future.
He considers SDM as the third place in his life; first is his family and the second is his company. It is not easy to balance all three, but he's so inspired at SDM that he doesn't feel any difficulty. He is always with passionate people and is involved in exciting discussions. He's utilizing what he's learned in his company and also what he's learned at SDM. he feels that there is no free learning in other schools. SDM provides the methodology for students to research and implement any theme they like. That's SDM for him. He strongly recommends people who want to do that which hasn't already been done by others to enter SDM.
Learning to generate new ideas
Active Learning Project Sequence (ALPS) is a unique feature of SDM. In ALPS class, students identify problems in society and learn how to generate new ideas and/or solutions as a team that is diverse and passionate. The ALPS class lasts over six months. He believes that, in Japan, and possibly the world, only SDM offers this. The true goal of ALPS is to generate ideas and/or solutions to improve society. He was an ALPS team leader in 2009. His team generated new ideas to solve the problem of the dwindling number of farmers and won the Ishii award and the Fujiwara award for their ideas. When ALPS ended, another member entered our report and won first prize in the Entrepreneur Grand Prix and second prize in the Campus Venture Grand Prix. These awards prove the value of ALPS. His team is now preparing to establish a new company. It has been great experience for each member. He thinks that's the real meaning of ALPS.
e-learning format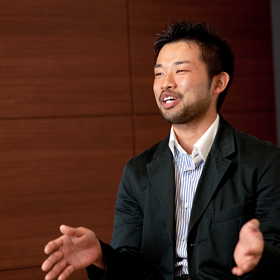 In addition, there are some special and stimulating classes in SDM that other graduate school don't have. For example, Professor Maeno teaches "Ethics for System Design Engineers" and "System Life". Those classes were held on weekdays so he takes them using the new e-learning format, which was very interesting. The class required student to work as a group. As a trial, the e-learners became a group. They saw the lectures on video and met weekly. Finally, his group attended a real class and presented our assigned exercise. In "Ethics for System Design Engineers" he learned to seek value through philosophy. His group's theme was about the acceptability of human cloning. In "System Life" their theme was how to build a creative community using a life system.
One year has passed since he enters SDM. People around him say that he has become more open-minded. He is really flattered. He will do his best in his second year in SDM.