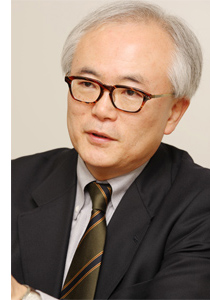 Tomohiko TANIGUCHI 
Professor, Graduate School of SDM, Keio University
Other positions
Special Advisor to the Cabinet of Prime Minister Shinzo Abe
Biography
Doctorate in national security. 20 years in business journalism. stint for 3 years in London. One time President at the Foreign Press Association in London. Spent sabbaticals at Princeton University (Fulbright visiting fellow), Shanghai Institute for International Studies, and at the Brookings Institution as a CNAPS Fellow before joining Ministry of Foreign Affairs as Deputy Press Secretary. Since August 2008 held professorships at Keio and Meiji, and taught international political economy and media studies. On 1 February 2013 rejoined the government as Councillor, Cabinet Secretariat. Assumed current positions both at the SDM and at the Prime Minister's Office, effective 1 April 2014.Terminated government service as Prime Minister ABE Shinzo left office, 16 September, 2020.
Educational Policy
Students will be led to equip themselves with a skill-set always to take dual perspectives to see: politics and economy; history and present; Japan and the world.
Research Interests
U.S.-led International System: Genesis and Evolution
Japan's Post-war Economic Development: International Context
International Currency Regime: Transformation and Future
Japan's Diplomacy: Politico-Economic Conditions
Public Diplomacy for Democratic Nation-States
Areas of expertise
International Political Economy (Currency Regime, International Financial System), Japan's Diplomacy, Public Diplomacy
Books and publications
"Currency Drama: A Contemporary History of the Yen, Yuan, Dollar and Euro" (Nikkei); "The New Shanghai: Economic Growth Viewed from the Back Alleys" (Chuokoron-Shinsha) etc.